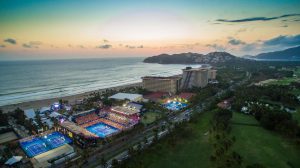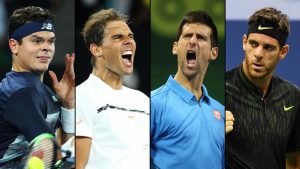 Acapulco, Mexico's original beach destination, hosted the Abierto Mexicano Telcel from February 27 to March 4 at the Acapulco Princess Mundo Imperial Hotel. The Mexico Open is one of 13 ATP World Tour 500 series tournaments.
In 2007, Acapulco won the ATP World Tour award for best tournament of the year in its category, and continues to be a favorite of players and fans across the globe.
Players for this this year's tournament hailed from three continents, competing for nearly $1.5 million in prize money. The court stars included returning champion Dominic Thiem of Austria, along with Canada's Milos Raonic, Croatia's Marin Cilic, Spain's Rafael Nadal, Argentina's Juan Martin del Potro, Servia's Novak Djokovic, Germany's David Goffin and Alexander Zverev and of the United States John Isner and this year's winner Sam Querrey.
The Abierto Mexicano Telcel is one of numerous annual Acapulco events dazzling visitors year-round, from music, sports and food-filled festivals, many on the city's beautiful Pacific beachfront. There is something for international and domestic visitors, from all night dance celebrations to events highlighting the delicious bounty of the Pacific Ocean.
From March 27-30, Acapulco hosted the annual "Tianguis Turistico," Mexico's most important travel tradeshow. The main objective of the Tianguis Turistico Mexico, is to encourage the promotion and marketing of Mexico's tourism products and services.
In May, Mexico's traditional Spanish culinary roots are celebrated during the Paellas Festival, with paellas cooked on the beachfront at Elcano Hotel. Music lovers should visit Acapulco during Tropico, a three-day festival full of non-stop entertainment, held this year from December 2-4 in the Hotel Pierre Mundo Imperial on the Costera De Las Palmas. Art exhibitions, fashion shows, gastronomic events and cocktail-fueled pool parties are also part of the festivities.
Whether timed for these and other events, Acapulco's cuisine, adventure and cultural experiences are available year-round. As Mexico's original beach destination, long a favorite of Hollywood' stars, travelers can enjoy Acapulco's renowned tourist attractions including: the cliff divers show at La Quebrada, a tradition in the port since 1934, celebrating its 83rd anniversary during 2017; the famous Diego Rivera murals; the 400-year-old museum Fort of San Diego, where visitors can discover Acapulco's history; scuba diving and snorkeling at La Roqueta Island, and so much more.